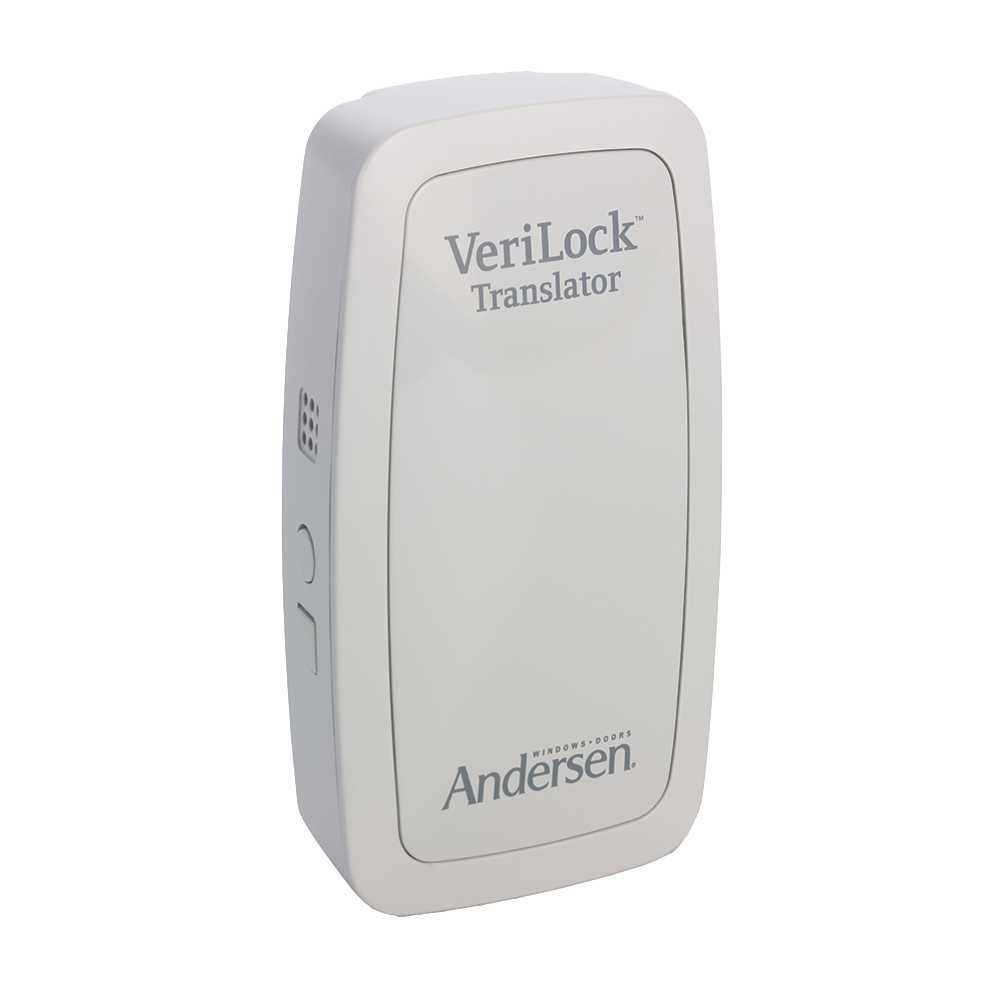 Shop Now
An Andersen VeriLock Security Sensor for each desired window and patio door
OR
An Andersen Wireless Open/ Closed Sensor for each desired window and patio door
AND
One AndersenTM Translator
Do I need sensors in second floor windows or doors that are not easily accessible from the ground?
The ability to detect the open/closed and/or locked/unlocked state of windows and doors with VeriLock sensors has benefits beyond security. Maximum energy efficiency and performance, especially during inclement weather, is achieved when windows and doors are closed and locked. Windows and doors with VeriLock sensors integrated into a security system or self-monitoring system can simplify checking and identifying open or unlocked openings to give you the peace of mind knowing the status of all windows and doors no matter the location.
Will VeriLock® sensors or Wireless Open/Closed Sensors interfere with other wireless devices in my home?
These sensors should not interfere with most common household electronics, including cell phones, WIFI routers, microwave ovens and baby monitors because they operate at a different frequency.
What is the range of VeriLock sensors' and Wireless Open/Closed Sensors' wireless signal?
Sensor range depends on the types of building materials used and their location relative to the sensors and the wireless receiver. In a free air environment with no obstacles, these sensors have been observed to have a range of over 500 feet. System dealers can install wireless translators or repeater(s) to provide adequate wireless signal reception in larger homes.
How long will the batteries in VeriLock Security Sensors and Wireless Open/Closed Sensors last?
Most 3.0 volt lithium batteries will provide years of operation. Actual battery life is dependent upon the environment in which the sensor is used and the number of signals the sensor has had to send. Other factors such as humidity, temperature extremes or large fluctuations in temperatures may all lead to reduction of battery life. Batteries are not covered under the limited warranty for these sensors.
Are the batteries in VeriLock sensors and Wireless Open/Closed Sensors easy to change/replace?
The batteries in VeriLock sensors and Wireless Open/Closed Sensors can be easily replaced with minimum use of basic hand tools. The 3.0- Volt lithium coin cell batteries used in VeriLock sensors are readily available at most general, hardware or drug stores in a variety of brands.
Is Andersen's Wireless Open/ Closed Sensor only compatible for Andersen® windows and doors?
No, these sensors work with any window or patio door (non-Andersen brands) and can also be used with entry doors, cabinets and other items that open and close.
What is the VeriLock Security Sensor limited warranty and Wireless Open/ Closed Sensor limited warranty?
Both sensors have a 2 year limited warranty.
Open the Wink app on your mobile device and log in with your email address and password. If this is your first time using the Wink app, tap Sign Up to create an account.
First find the Andersen Translator in the Add to Wink list and follow the instructions to connect it.
Then find your VeriLock security sensors or Wireless Open/Closed sensors in the Add to Wink list and follow the steps, opening and closing the sensors as instructed.
Go to the Settings screen for your sensors and enable alerts to receive a notification whenever your sensor is opened or unlocked.