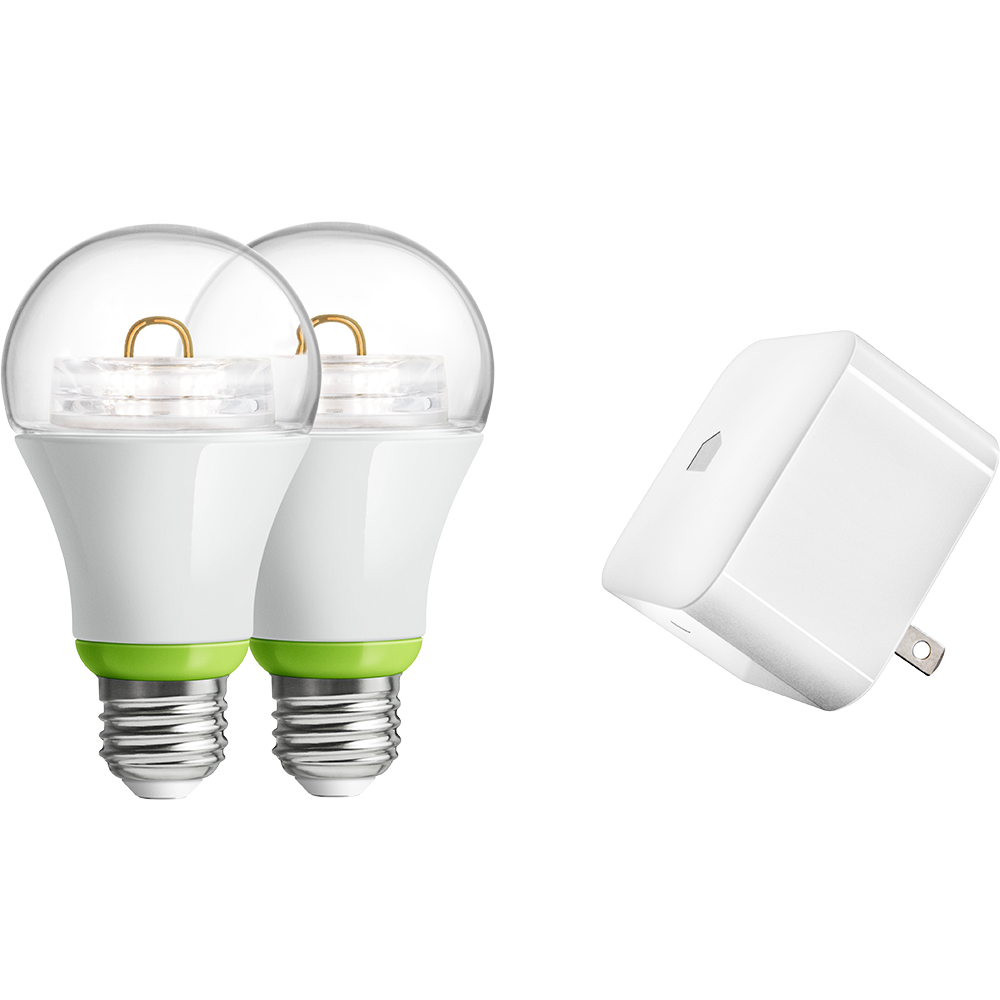 Shop Now
Wink app (latest version)
Wi-Fi® network with 2.4GHz router (5GHz is not supported)
Supported wireless security: WEP (40-bit, 128-bit), WPA-PSK (TKIP/AES), or WPA2-PSK (TKIP/AES)
Apple iPhone®, iPod touch®, or Android™ phone
What do the different colors on the Link Hub indicate?
| | |
| --- | --- |
| COLOR | MEANING |
| Slow flashing purple | pairing mode |
| Fast flashing purple | hub successfully paired (or when deleting a hub, successfully unpaired) |
| Solid purple | hub application starting up |
| Slow flashing blue | connecting to Wi-Fi/Internet |
| Fast flashing blue | authenticating with Wink |
| Solid blue | connected to Wi-Fi/Internet |
| Slow flashing red | downloading update |
| Fast flashing red | installing update |
| Solid red | corrupt hub memory - please contact customer service at 1-866-5QUIRKY |
Will my Link Hub work on a Wired LAN (Local Area Network)?
As of right now you need a Wi-Fi connection to send commands to the Link Hub, but Wink is looking into other forms of control.
Can I connect ZigBee products other than what is listed on the Wink Products page?
The Link Hub currently only supports GE Link light bulbs.
Can I share control of my devices with other people?
Yes, you can share devices while maintaining control of your own Wink account. Make sure that you and the person you are sharing with have confirmed your Wink accounts. This is done by clicking the link in the email from Wink after you initially create your account. You will be sharing control of an individual Link Hub. From the Link Hub page within the Wink app, tap the three blue dots in the upper right corner and tap the name of your Hub in the side menu. Next, tap "Add a user".
Can I connect more than one Link Hub to my Wink account?
Yes! When you have multiple Link Hubs connected to your Wink account, simply choose which Link Hub you would like to use during pairing.
My Link Hub won't connect to the Wink app, what should I do?
First, check the Home screen to see if your Link Hub was already added. If it was not added, unplug and replug your Link Hub. Next, put your phone in Airplane Mode with only Wi-Fi on. Then, in the Wink app, retry the steps to add Link Hub, making sure to enter your home Wi-Fi credentials in the Share Wi-Fi screen.
What if my power at home goes out? Will I need to do anything to get my Link Hub up and running again?
Should a power outage occur in your home, all of your products should reconnect automatically when your power and Internet connection is restored. Sometimes the Link Hub will reboot before your Wi-Fi network is active again. In this case, unplugging and replugging will usually get things reconnected. If this does not work, try restarting your wireless router while the Link Hub is off then power the Link Hub back on once the router has rebooted.
What if I just updated my Wi-Fi network? Will my Link Hub automatically connect to my new network?
The Link Hub will not automatically reconnect, since you've changed the credentials that the Link Hub currently knows. In order to update those credentials, go to the Wink app Wi-Fi Settings menu under Link Hub Settings. Enter the new Wi-Fi credentials, tap "Update," and your Link Hub should connect to your newly updated network!
How can I avoid future problems?
Always update the Wink app before you connect any products. Also, make sure your Link Hub is at least 5 feet away from any Wi-Fi source (router, access point, etc.) If it is too close to a Wi-Fi source, the Wi-Fi chip in the Link Hub can get saturated, which could cause communication breakdowns.
How many devices can I pair to my Link Hub?
You can pair a total of 128 GE Links to the Link Hub.
Plug in your Link Hub at least 10 feet away from your Wi-Fi source. It will automatically turn on.
Once the light on top of the Link Hub is slowly flashing purple, it is ready to connect and awaiting credentials.
Open the Wink app on your smartphone and log in with your email address and password. If this is your first time using the Wink app, tap "Sign Up" to create an account. You will then receive an email asking you to confirm your account.
Tap "Add a Product," then tap "Hubs," then tap "Link Hub." Follow the steps on the Wink app.
Carefully follow the steps in the Wink app. Note: When it's first connected to Wi-Fi, the Link Hub will download new firmware. The LED light on the hub will be flashing red for about 30-45 seconds. Once the firmware is finished downloading, the LED light will be flashing purple, and you will be prompted to repeat the previous step.
When the light on Link Hub is flashing blue, it is connecting. When the light turns solid blue and the Wink app displays "Success," your Link Hub is connected!