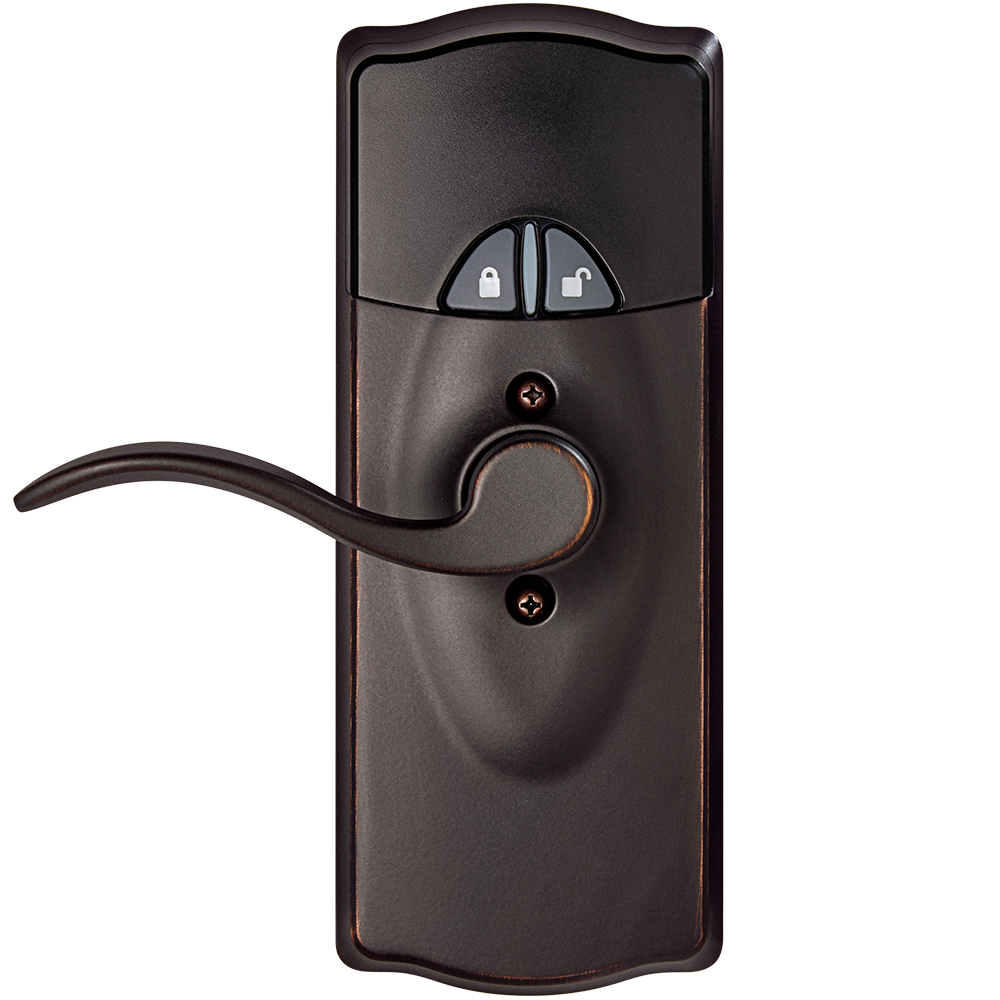 Schlage Home Keypad Lever Lock
Shop Now
Schlage Home Keypad Lever Lock
6-digit programming code (located on the back page of the Schlage User's Guide)
Wink Hub / Wink Hub 2
Wink app (latest version)
Installation tools
4 brand new AA batteries (Included)
Apple® smartphones & tablets (tablets use iPhone app) or Android™ device
A 2.4GHz Wi-Fi network
How far away should the Wink Hub / Wink Hub 2 be from the lock during connection?
For best practice, your Hub should be as close as possible to the lock when you're connecting it. Once the lock's connected, you can move the Hub further away.
Can I change lock user codes from the Wink app?
Yes, you can manage your user codes in the Lock Settings page.
Do I need to be on my local wireless network to control the lock?
As long as your Wink Hub / Wink Hub 2 has a steady wireless network and your smart device has internet (Wi-Fi or data connection), you will be able to control your lock via the Wink app.
Can I create a Robot to unlock my door?
Due to potential security concerns, Robots cannot be created to unlock doors. Similarly, you cannot create a schedule for your Schlage Touchscreen Deadbolt.
What do the different lights on the front of the lock mean?
Flashing green: Unlocking lock or successful pairing. Flashing orange: Pairing Mode. Flashing red: Incorrect user or programming code or unsuccessful pairing.
What is the maximum range from the Wink Hub / Wink Hub 2 to the Schlage Home Keypad Lever Lock before losing functionality?
The official range of Z-wave is about 300 feet, assuming you are outdoors with a clear line of sight. However, once walls and other household items come into play, the range tends to decrease due to loss of signal strength. Officially determining range is tricky business, as it is usually on a case-by-case basis, depending on your ecosystem's environment.
How can I prevent unauthorized entry?
This lock can be opened using two different codes that are randomly set at the factory. Upon installation and set-up, replace both of these codes with your own. Since anyone with access to the power board can change these codes, you must restrict access to the power board and routinely check both codes to assure they have not been altered without your knowledge.
How do I factory reset my Schlage FE599?
Disconnect the batteries then on the lock keypad press and release the Schlage button. Reconnect the batteries and wait until the Schlage button is no longer lit. Within ten seconds, press and hold the Schlage button until it lights green and the lock beeps. This does not exclude the device and reset z-wave connections.
Will anyone be able to create a new user code on my account?
No, you will have to re-enter your Wink account password for security before you create a new user code.
Will my user codes be automatically deleted when I set a 'Reminder to Delete'?
No, you will have to remove them manually after you receive the reminder to remove these codes.
Can I set multiple lock codes of different lengths?
You can have multiple lock codes but they must be 4 digits. The length of user codes can only be changed on the Schlage Connect Deadbolt (BE469) model of Schlage locks.
What does 'Vacation Mode' do?
Vacation Mode will temporarily disable all user codes. The app controls will still function, but the keypad will not function.
Open the Wink app on your mobile device and log in with your email address and password. If this is your first time using the Wink app, tap Sign Up to create an account.
Tap "Add a Product," then tap "Locks," then tap "Keypad Lever Lock." Follow the instructions on the Wink app.
Have your 6-digit Programming Code handy. All pre-programmed codes can be found on the yellow sticker on the front of the Installation Instructions that come with the lock. An identical label is also located on the inside (part that faces the door) of the keypad.
You will see a page in the app where the "Next" button is greyed out, leaving you unable to continue. This is where the Wink Hub / Wink Hub 2 broadcasts its pairing signal. Make sure the Wink Hub / Wink Hub 2 is blinking a blue light, then enter the Programming Code into your lock. Wait for the Schlage button to turn Orange and blink/beep 3 times. After you hear this, press the Schlage button and the '0' button. The lock will blink an orange light for a few seconds, then you will get a green light on the Schlage button (as well as a green flash of light on your Wink Hub / Wink Hub 2). Congratulations, you are connected to your Schlage Keypad Level Lock!