Wink + Ring
WITH RING YOU'RE ALWAYS HOME
With Wink + Ring you can turn on lights or unlock the front door when visitors approach your home.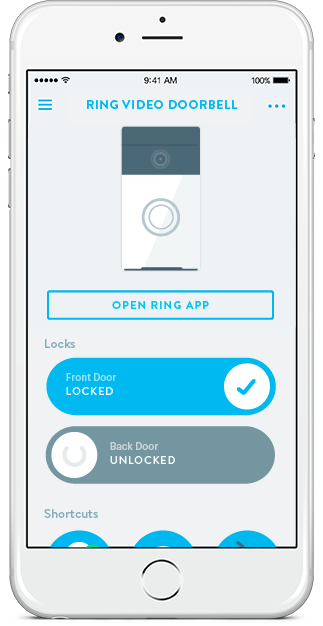 Travel Mode
You shouldn't have to arrange your life around a delivery schedule. With the Ring™ Video Doorbell, you don't have to.
MONITORING
No need to wonder if something is going on outside your home, see for yourself.
SECURITY
Ring provides a new level of security, by notifying you when someone is on your property and letting you see and speak with anyone at your front door.
Invented By
DIMENSIONS
4.98 in. x 2.43 in x .087 in.
Audio
Two-way audio with noise cancellation
Rechargeable battery
6-12 months of battery life with regular usage
Requirements
iOS or Android Mobile Device/Tablet and a Wi-Fi internet connection
Night Vision
Infrared LEDs