Wink Relay
A SMART HOME ON YOUR WALL
Relay is a touchscreen control panel that brings the power and convenience of Wink to your wall. Install it in place of a standard light switch to create a command center in the heart of your home for all your favorite smart products, and now, third party experiences like Uber, Fitbit, and IFTTT.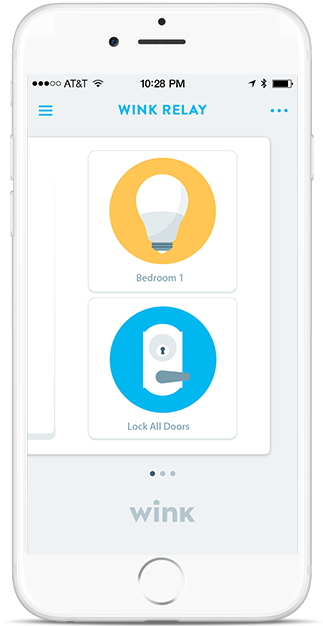 WIDGETS
Relay supports Uber, Fitbit, and IFTTT. Call a ride, check your fitness goals, or trigger automations directly from the touchscreen panel.
INTERCOM
Multiple Relays become an in-home intercom system when you tap the microphone icon.
SWITCHES
Smart buttons can act as light switches, turn other smart products on/off, and trigger IFTTT automations.
Invented By
REQUIREMENTS
Single or double light load gangbox with neutral wires that is not wired to an AC outlet, Wi-Fi® network, 2.4GHz router broadcasting with a 20 MHz bandwidth. Not compatible with a 3-way light switch.
DIMENSIONS
6.6" W x 5.9" H x 1.2" D
TOUCHSCREEN
4.3" multi-touch screen displays custom Wink app
SENSORS
Proximity, temperature, and humidity sensors keep tabs on your environment.
INSTALLATION
Professional installation by a qualified electrician is recommended. If you are unsure if your light switch is compatible with Relay, visit http://wink.pro.com/ to get help from a professional electrician.
CONTENTS
Two Wink Relays, including main unit, power box, screwdriver, 2 screws, wire stripper, wire connector, 2 snap plates, user guide
Need a little help?
Get more info
Wink Relay Touchscreen Controller
Product Support