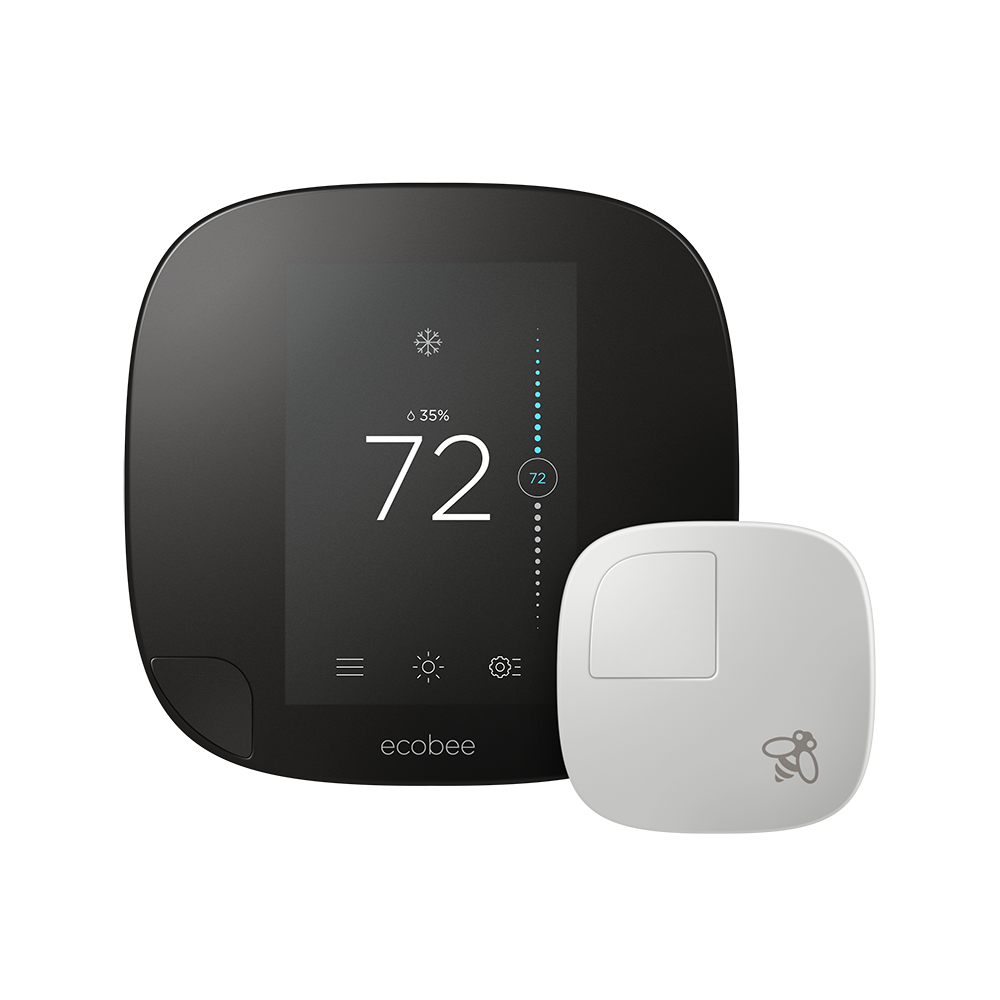 Shop Now
ecobee 3 Thermostat
ecobee app and account
Wink app (latest version)
Apple® smartphones & tablets (tablets use iPhone app) or Android™ device
What features are available for the ecobee3 Thermostat within the Wink App?
The Wink App will allow you to view your current indoor temperature and humidity, make adjustments to temperature set points, fan control, operating mode and Quick Changes. You can also add the thermostat into Robots and Schedules in the Wink App to have more control over your Smart Home.
What type of heating/cooling systems are compatible with the ecobee3 thermostat?
The ecobee3 thermostat supports up to 2 stages of heating and cooling for conventional systems with 1 or 2 stages of heat pump and up to 2 stages of auxiliary heat. ecobee is compatible with zone boards, but to ensure that all features are supported with your zone board or zone controller, contact ecobee support.
What is the Quick Changes feature?
Quick Changes allow you to create and select different profiles so that you can easily adjust your household to your current preference.
Will the remote sensors paired to my ecobee3 show up in the Wink App?
Yes. You can view the temperature readings from your remote sensors in the Sensors section of the Wink App.
Will the ecobee3 Thermostat work with Line voltage or millivolt systems?
The ecobee3 is not compatible with Line voltage or millivolt systems.
How many ecobee3 Thermostats can I have on my Wink Account?
There is no limit set on the number of ecobee3 thermostats that can be installed in one location. All ecobee3 thermostats on your ecobee account will show in the Wink App after adding your ecobee account to your Wink App.
Can I group multiple ecobee3 Thermostat in the Wink App?
Yes you can! You may add as many ecobee3's as you want into a group in the Wink App. This will allow you to make changes for multiple locations at once. You can also create groups containing the ecobee3 and other brand thermostats you have to make life easier.
Open the Wink app on your mobile device and log in with your email address and password. If this is your first time using the Wink app, tap Sign Up to create an account.
Tap "Add a Product", then tap "Heating & Cooling", then tap "ecobee3 Thermostat ". Follow the instructions in the Wink app.
Before you are able to connect your ecobee3 Thermostat, it must first be installed and registered in the ecobee application. If you have not yet done so, tap "Download Ecobee App" in the Wink app and follow the instructions in the ecobee app to register the thermostat. If you have already registered, tap the "I Have An Account" button.
Tap the "Connect Now" button, and enter your ecobee login credentials. Congratulations, you are now connected to your ecobee3 Thermostat!