Wink + ecobee
THE SMARTER THERMOSTAT FOR HOMES WITH MORE THAN ONE ROOM
Ordinary thermostats read the temperature in one room (usually the hallway) which can make your favorite rooms uncomfortable. That's why we created ecobee3. It works with remote sensors to deliver the right temperature in the rooms that matter most.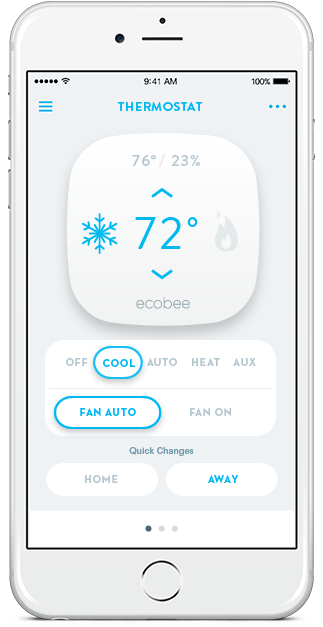 CUSTOMIZE YOUR COMFORT
We've included 1 sensor and you can add up to 32. Sensors help to address hot and cold spots, improving your home comfort.
SAVINGS
ecobee owners save an average of 23% on heating and cooling annually.
CONTROL
Monitor and control the temperature in your home anytime from anywhere.
Invented By
MANUFACTURER WARRANTY
3 years
DISPLAY
3.5" full-color LCD touch screen 320 x 480 pixel display
REMOTE SENSORS
Thermostat comes with remote sensor that reports and delivers comfort where it matters.
COMPATIBILITY
Conventional (2H/2C) Heat pump (4H/2C) incl. 2-stage auxiliary heat Gas, oil, electric Dual fuel support Humidifier, Dehumidifier, Ventilator, HRV or ERV
POWERING METHOD
Wired 24VAC through terminals C and either Rh or Rc. Power Extender Kit (included) enables you to reliably power your thermostat without having to run a fifth wire.
Need a little help?
Get more info
ecobee3 Wi-Fi Thermostat with Remote Sensor
Product Support