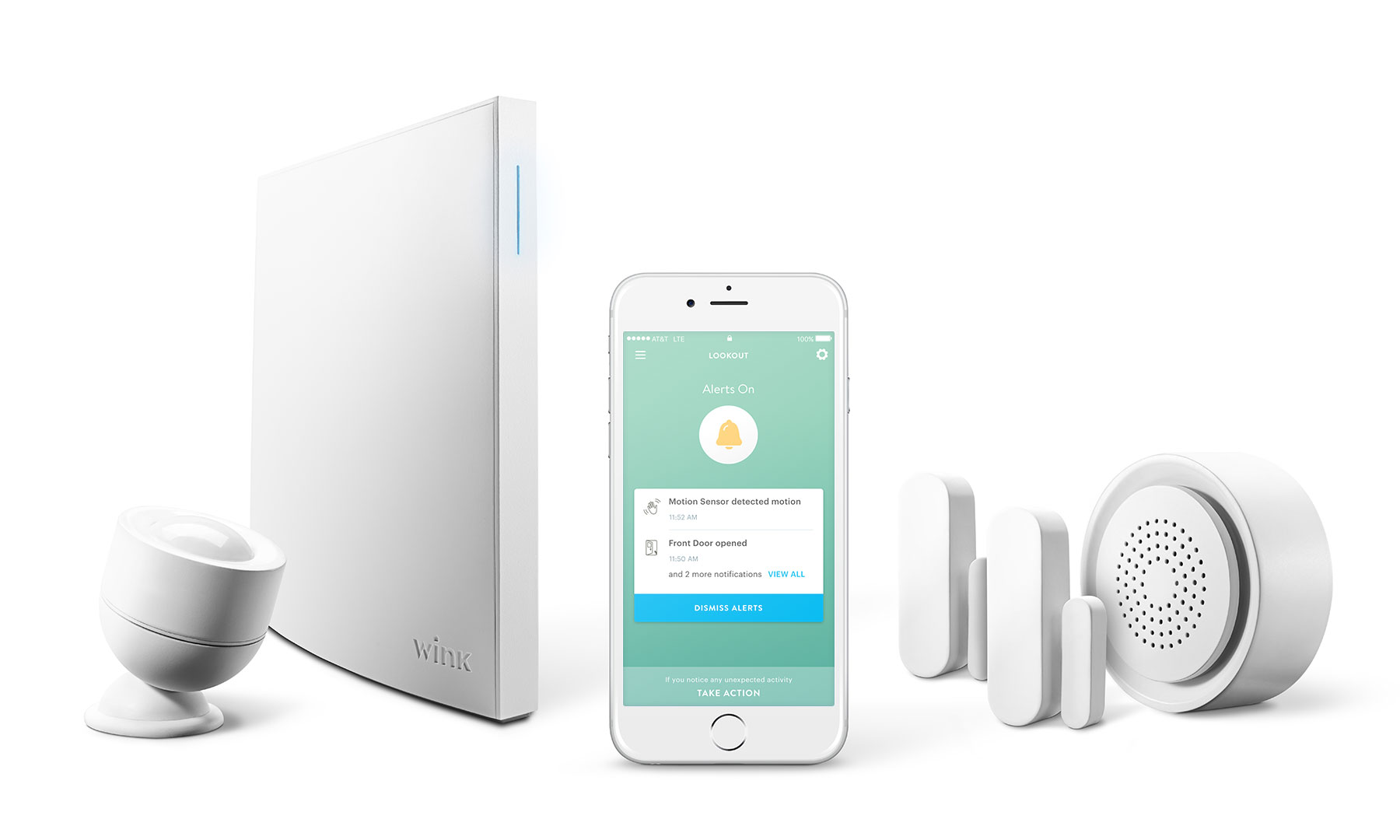 Shop Now
Wink Lookout Kit
Wink App (6.5+)
Internet connection (Ethernet port or Wi-Fi network with 2.4 GHz or 5 GHz)
Apple® or Android™ smart device (tablets and desktops not supported)
Wink Lookout is our smart security essentials kit. Get notified about activity around your home and quickly decide how to respond. It's the perfect gateway if you are interested in protecting your home, but don't want to pay hefty fees for professional installation.

Wink Lookout grants you freedom from worrying about what's going on at home when you're not there, and allows you control over your home should something unexpected occur.
What is included in Wink Lookout?
Wink Lookout starter kit includes: Wink Hub 2, two Wink Door/Window Sensors, Wink Motion Sensor, Wink Siren & Chime, with our free in-app service for self-monitored home security. Wink Lookout also includes a power adapter, 6-foot Ethernet cable, and a Quick Start Guide.

Products included in Wink Lookout are sleek, state of the art, and subtle enough to blend in with your home's decor. When you're ready to expand your smart home system, Wink makes it easy to add more sensors and connected products to Lookout.
How does Wink Lookout work in the Wink app?
In the Wink mobile app,
Lookout
is a free, in-app service that helps you stay connected to your home no matter where you are. Get notified about activity around your home and quickly decide how to respond.
Receive instant alerts when activity is detected for doors, windows, locks, garage doors, and more, know the exact sensor that tripped right away, and view recent and historical activity.
How do I set up Wink Lookout?
Set up Lookout quickly with Wink's specialized pairing technology. It's as simple as unboxing and installing your sensors. Follow the Quick Start Guide instructions (included in the Wink Lookout box) or let the Wink app guide you through the simple setup process.

Simply plug in and connect Wink Hub 2 to your home internet, and download the Wink app. Once you create an account, Wink will recognize the Wink Lookout starter kit and prompt you to begin setup. The Lookout Setup Checklist will guide you through easy setup and installation, allowing you the flexibility to pick and choose which products you want to set up now, or choose to resume setup at a later time.
Can I purchase the Wink security products separately?
Are batteries included in the Wink security products?
Yes, batteries are included for Wink Lookout. The Wink Siren & Chime has two Lithium CR123A batteries, the Wink Motion Sensor has one Lithium CR123A battery, and the Wink Door/Window Sensor has one Lithium CR2 battery per sensor.
Battery life: Up to 3 years
Can I connect other brands' security products to Wink Lookout?
Yes, you can connect any Wink-compatible alarm, camera, doorbell, door / window sensor, garage door, lock, or motion sensor.
Can I connect other smart products to the Wink Hub 2 that is included in Wink Lookout?
Yes, any of the hundreds of Wink-compatible products can be connected with the Wink Hub 2 that is included in the Wink Lookout Security Essentials kit.
Is there a difference between a standalone Wink Hub 2 and the Wink Hub 2 included in Wink Lookout?
The hardware and software are the same. The difference is that the Wink app will recognize Wink Lookout as a pre-paired Wink Hub 2 and security products, guiding you through a simplified setup experience with helpful tips about easy installation options and the opportunity to test out each sensor around the home.
Can the products included in Wink Lookout be used outdoors?
No, these products are not recommended for outdoor use.
Can I use Wink Lookout for more than one home location?
Lookout is currently designed to be used for a single home location.
What should I do if I'm having trouble connecting my Wink Lookout?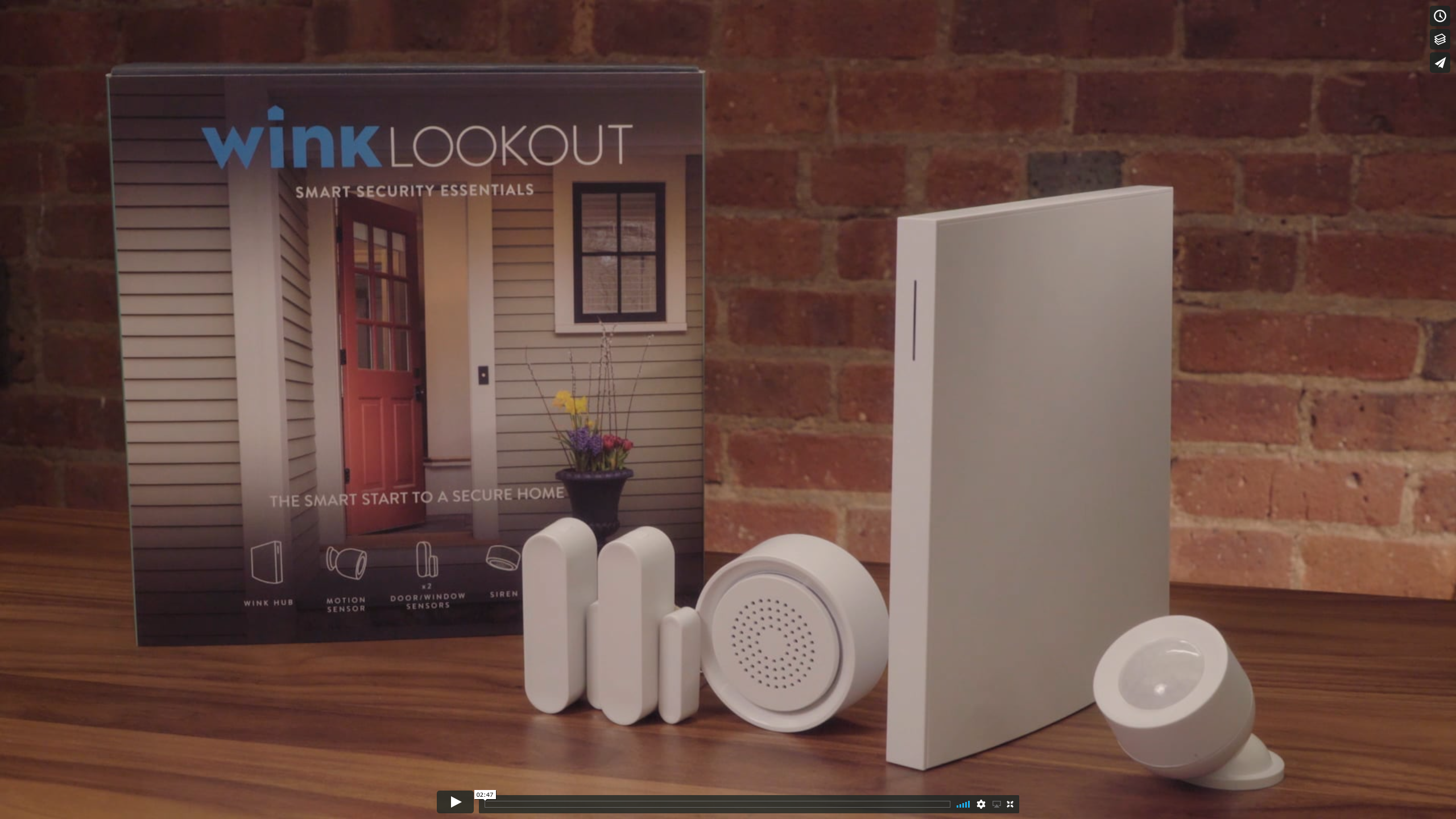 questions@wink.com
1-844-WINKAPP