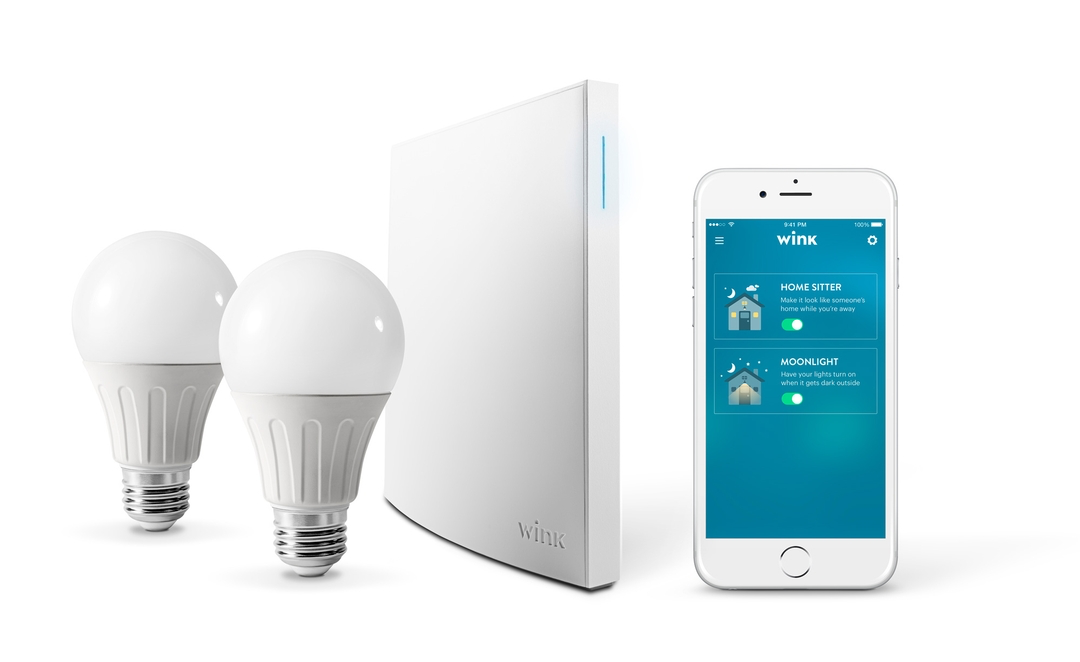 Shop Now
Wink app (6.0+)
Apple® smartphones & tablets (tablets use iPhone app) or Android™ device
Where can I buy Wink Bright?
What kind of light bulbs come with Wink Bright?
Wink Bright includes with two 60W equivalent LED
SYLVANIA Smart A19 Dimmable bulbs
.

How do I set up my Wink Bright?
Follow the quick start guide's instructions (included in the Wink Bright box) or let the Wink app guide you through the simple setup process.
Are smart bulbs from other brands compatible with Wink Bright?
What should I do if I'm having trouble connecting my Wink Bright?
If you're having trouble setting up Wink Bright products or services, refer to the individual FAQ pages for
Wink Hub 2
,
Sylvania A19 lights
,
Home Sitter
, or
Moonlight
. Still have questions? Call (1-844-WINKAPP) or email (questions@wink.com) the Wink support team for more help.
Can I use Google Assistant or Amazon Alexa with Wink Bright?
What services can I use with Wink Bright?
You can use
Home Sitter
and
Moonlight
with Wink Bright. These lighting services are found within the Services tab of the Lights + Power section.
Can I use both Home Sitter and Moonlight?
Yes,
Home Sitter and
Moonlight
can be used simultaneously with all Wink-compatible lights. For the optimal experience, Home Sitter and Moonlight should not control the same devices. If you do have both services control the same lighting product, keep in mind some lights may turn off earlier than sunrise due to the changing patterns of Home Sitter.
What are the differences between Wink Bright and a Wink Hub or a Wink Hub 2?
Wink Bright is a starter kit that comes with two SYLVANIA Smart A19 Dimmable bulbs paired to a Wink Hub 2 using Wink's specialized pairing technology. Wink Hub 2 and the Wink Hub require users to purchase and pair lighting products separately.
Can I use Home Sitter and Moonlight if I already have lighting products on my Wink account?
Can I edit my Home Sitter and Moonlight settings after setting up Wink Bright?
Yes, you can edit your Services settings at any time in the Wink app's Services tab, located in the Lights + Power section.
questions@wink.com
Wink Support (1-844-WINKAPP)